Nefera De Nile: Daughter of the Mummy. (Older Sister Of Cleo De Nile.)
Nefera!
"Notice how different I am from Cleo."
Nefera's four corners!
"That sway!"
her hair down.
"I dunno!"
Notice the lengths of her leg wrappings.
Fan art!
Nefera: "Daddy! I hate it!"
"Photo shoot!!!" Said the directer. "I am great for those kinds of things!!" Nefera shouted.
"Shop Nefera, Shop Fashion!"
"Geez, I don't think anyone cares, Cleo. I mean, you DO need new shoes, but who cares? I recommend cool and cute shoes like mine."
Cleo thinks she's so great!
"Read my cardboard cutouts!"
" Wow! I look amazing! Can I wear this for my wedding?!"
I think they traced.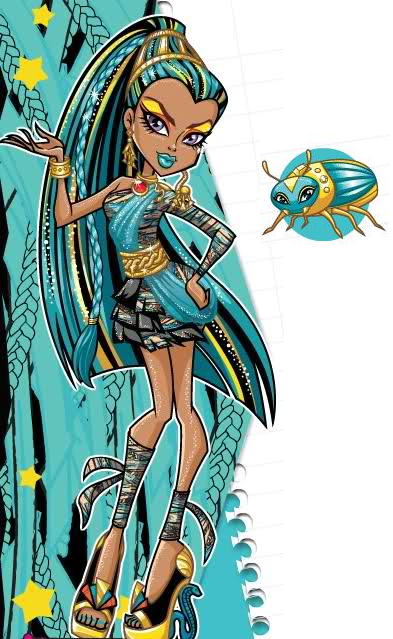 "Ooh la la! It's me, Nefera! I'm more important that Cleo!"
Bwahahahahahaha!!!!!!!!!!!!!
"But Daddy!!!"
Has too many "stretch" marks.
"I don't think anyone will care! I like this pretty spell!"
"Come on, Dad!"
I don't like that girl.
"Fanged and fabulous!"
"Stay out of this, Cleo!"
Looks less evil!
"I'm the best!"
"First things first!"
................................
"Huh? What was that?"
Bwahahahahahahahah!!!!
"Blu-! Who would care!?"
"Hee hee!"
"Oh!"
She's proud and hanging her head high!
"What?!"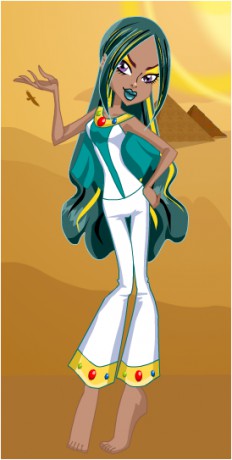 "Ooooh!"
"Ahhhhhhhh!!!!!!!"
Cleo and Nefera are in it.
"Don't ask!"
"As you wish."
"Duh, no!"
"What's going on?!"
"Hee hee!"
.....
"Your evilness."
"Hmmmmm.........."
"No."
"Too bad for Cleo!"
"Ahhahahahahaha!"
"I KNOW RIGHT!"
"Bow before your rightful Princess!"
"Ooh, Sexy lady! Ooh, Sexy Nefera!"
"Looks like me."
" I don't wanna!!!"
"Hey, Super Boob!"
"Cleo, Deuce deserves better. Better as in ME!"
"Cleo!!!!!"
"Aieeeeeeee! Cleo!!!!!"
"Thanks and Kisses!" Nefera says. "Eww." Said Cleo.